By | November 13, 2007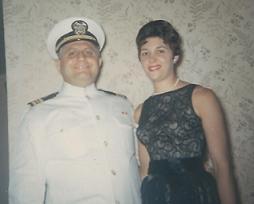 On This day in 1982 The Vietnam Veterans Memorial was dedicated in Washington, DC. This wall is dedicate to the Veterans who served and lost their lives during the Vietnam War. As a young teenager, with little understanding of the War, I turned to the television and watch the dedication ceremonies out of curiosity.I distinctly remember people laying flowers at the base of this black monolithic structure and placing their fingers on names etched in the side of the black shiny wall. Many people would take a white paper and a crayon or pencil and produce an etching of a name on the wall, bringing back memories of my etchings of Revolutionary War Veterans headstones in the cemetery across the street from our house.


My fathers memories of the event where dramatically different. On June 1, 1966 my parents moved from the small town of Lyndhurst, New Jersey to Edison, intending to open an office in New Brunswick. On June thirteenth my father received a letter from the United States Government inviting him to join the Navy. Ironically, the letter was received only a few days prior to finishing his fellowship at the Seton Hall School of Medicine, now the University of Medicine and Dentistry of New Jersey, on June 30Th.
The orders had my father reporting to the United States Naval Hospital in Philadelphia, Pennsylvania, Sept 1, 1966. I would arrive into this World only a few months later on March 17, 1967. In jest, I usually tell people that most of my time in the Navy was crying and wetting my pants, since I was only a few days old when I was "in" the Military.
Unfortunately on July 29Th my Mother fell while she was pregnant with me. The Navy moved all of their belonging out of their place in Edison to a storage facility while my Mother's broken leg healed. She spent her time healing under the care of my grandmother in Newark, New Jersey and when she was strong enough to walk, the Navy moved all of their belongings out of storage and into their new home in Blackwood, New Jersey.
To my amazement, my Father entered the Navy as an officer with the rank of Lieutenant Commander and was not required to complete basic training. This turns out is common practice for those officers who have a specialty which is in great need such as doctors.
During his two years in the Naval hospital he was very busy. Most of the patients where taken from the battlefield in Vietnam. The military system of transportation and logistics where incredibly efficient. Many patients arrived withing twenty-four hours of being wounded on the battlefield. Some soldiers still had their muddy and bloodstained uniforms they where wearing in the battlefield when wounded. To assist in their recovery the soldiers would be transported to a hospital closest to where they lived so family and friends could visit during their stay.
After serving two years my father receive an honorable discharge from the Navy. On June 9Th, 2001 the Naval Hospital was destroyed to add a parking lot for two new sports stadiums for the Philadelphia Major league baseball and professional football teams.
For More Information:
The History Channel
Vietnam Veterans Memorial National Monument
Vietnam Veterans Of America
United States Navy
Topics: Navy, Vietnam | 4 Comments »
4 Responses to "Vietnam War Memorial Dedicated Today"
Comments